Notepad ++ adalah editor kode sumber gratis (seperti dalam "kebebasan berbicara" dan juga dalam "bir gratis") dan penggantian Notepad yang mendukung beberapa bahasa. Berjalan di lingkungan MS Windows, penggunaannya diatur oleh Lisensi GPL.
Berdasarkan komponen pengeditan yang kuat, Scintilla, Notepad ++ ditulis dalam C ++ dan menggunakan Win32 API dan STL murni yang memastikan kecepatan eksekusi yang lebih tinggi dan ukuran program yang lebih kecil. Dengan mengoptimalkan sebanyak mungkin rutinitas tanpa kehilangan keramahan pengguna, Notepad ++ berusaha mengurangi emisi karbon dioksida dunia. Saat menggunakan daya CPU yang lebih sedikit, PC dapat memperlambat dan mengurangi konsumsi daya, menghasilkan lingkungan yang lebih hijau.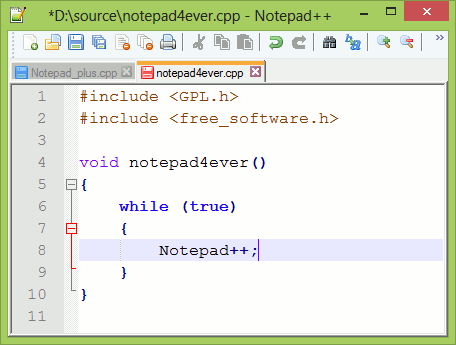 You're encouraged to translate Notepad++ into your native language if there's not already a translation present in the Binary Translations page.
I hope you enjoy Notepad++ as much as I enjoy coding it.